Making The Right Choice Are Running Shoes Important?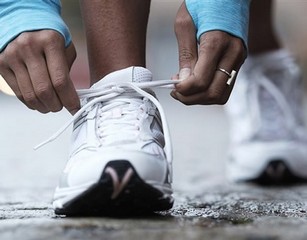 In all these events, there are certain inevitable materials that you need to carry along with you. The work of these materials will be to protect, strengthen and support you even in the toughest of times. These are none other than the running shoes and fitness apparels, that makes up one part of all your fitness sessions.
When you begin your fitness sessions and want to start your purchase for new outfits and shoes, all that you are left with is confusion. This is primarily due to the truckloads of advice your already filled with from your near and dear fitness freaks. And the next thing you would do is google for,
"Best running shoes for men". The list would pop out on the long screen scrolling down for pages together. It would hold images of stylish and attractive shoes and apparels. This would interest you much, as the hits would reflect much with words like, "Save", "Offer" and "Discount". When you peer into these pages, you would be taken aback. All the popular looking brands would have shoes in a range that is mostly unaffordable by the general public.
Do not worry or get upset. There is one important thing that you always have to remember.
The cost of the shoe has nothing to do with the brand or the quality of the product. You can buy the best running shoes for men at a relatively cheaper cost but with better quality. Do complete research on what your needs are. Then search for the product you wish to own. When you do so, you will rule out most of the unwanted items on the list.
Where to begin?
The biggest question on the page is where to begin your search from. Before you search you have to analyse what you need. The arch type, the heel drop and pronation will all leave your heads dizzy. But these aren't as complicated as you think. Your basic foot movements are all that you need to understand. You can simply find this out with the water test. If you find this difficult, then make it simple. Visit the shoe store in your vicinity and try out a few shoes. Each one with a different sole and different heel drop. Walkthrough the store and the find the shoe that you feel will make you comfortable. Just check it out and find the salesperson to find the kind of shoe.
Once you have identified your need, you can get these shoes online as well. Choose from the widest range of available colours and designs.
Is it only about shoes?
Fitness apparels don't just end with the shoe. You have other accessories that you have to purchase as well. This includes your fitness tees, tracks, hoodies, jackets and shorts. Clothing is equally as important as the shoe. Because this is going to be the shield that wraps and protects you during your fitness sessions. Get the best quality fabrics and correct sized outfits. Chose the material that absorbs the sweat and lets your body breathe. The more breathable your clothing is, less sweaty you will feel and more prepared you will be for the next session.
Online stores are fitness homes.
You can get all that you need in the same place. Starting from the shoes to tracks to the sock to glove. You can buy them all from the same place. When you make huge purchases these stores also offer extensive coupons and vouchers you can redeem.  From vibrant coloured shoes to white and black tank tops to mild coloured tees. Get only the best quality products from this exclusive fitness online store. The products are designed with innovative technologies that can help you work out with ease. This also protects your body from injuries and aches.